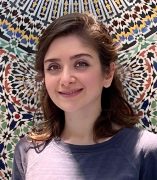 Sonia Alavi
Ph.D. Student
Pharmaceutical Sciences
Contact
Building & Room:
363 PHARM
Address:
833 South Wood Street (MC 781)
Office Phone:
Email:
Selected Publications
Alavi S, Mahjoob MA, Haeri A, Shirazi FH, Abbasian Z, Dadashzadeh S. Multivesicular liposomal depot system for sustained delivery of risperidone: development, characterization, and toxicity assessment. Drug Development and Industrial Pharmacy, 47 (8): 1290-1301, 2021.
Alavi S, Haeri A, Mahlooji I, Dadashzadeh S. Tuning the Physicochemical Characteristics of Particle-Based Carriers for Intraperitoneal Local Chemotherapy. Pharmaceutical Research, 37 (6): 1-24, 2020.
Akhlaghi S, Rabbani S, Alavi S, Alinaghi A, Radfar F, Dadashzadeh S, Haeri A. Green formulation of curcumin loaded lipid-based nanoparticles as a novel carrier for inhibition of post-angioplasty restenosis. Materials Science and Engineering: C, 105: 110037, 2019.
Alavi S, Akhlaghi S, Dadashzadeh S, Haeri A. Green Formulation of Triglyceride/ Phospholipid-Based Nanocarriers as a Novel Vehicle for Oral Coenzyme Q10 Delivery. Journal of food science, 84 (9): 2572-2583, 2019.
Teymouri Rad R, Dadashzadeh S, Vatanara A, Alavi S, Ghasemian E, Mortazavi SA. Tadalafil nanocomposites as a dry powder formulation for inhalation, a new strategy for pulmonary arterial hypertension treatment. European Journal of Pharmaceutical Sciences, 133: 275-286, 2019.
Haeri A, Osouli M, Bayat F, Alavi S, Dadashzadeh S. Nanomedicine approaches for sirolimus delivery: a review of pharmaceutical properties and preclinical studies. Artificial cells, nanomedicine, and biotechnology, 46 (sup1): 1-14, 2018.
Alavi S, Mortazavi SA. Freeze-Dried K-Carrageenan/Chitosan Polyelectrolyte Complex-Based Insert: A Novel Intranasal Delivery System for Sumatriptan Succinate. Iranian Journal of Pharmaceutical Research: IJPR, 17(4): 1172-1181, 2018.
Alavi S, Haeri A, Dadashzadeh S. Utilization of chitosan-caged liposomes to push the boundaries of therapeutic delivery. Carbohydrate Polymers, 157: 991-1012, 2017.
Notable Honors
2021, van Doren Scholarship, College of Pharmacy, University of Illinois Chicago
Education
Ph.D. Student, University of Illinois at Chicago, 2021 - Current
Pharm.D., Shahid Beheshti University Of Medical Sciences, 2017
Selected Presentations
Alavi S, Dadashzadeh S, Haeri A. Green formulation and in vitro characterization of triglyceride/ phospholipid-based nanocarriers for Coenzyme Q10 Delivery. 8th International Colloids Conference, Shanghai, China (2018).
Alavi S, Mortazavi SA. Formulation and in vitro evaluation of lyophilized K-Carrageenan/Chitosan nasal inserts containing Sumatriptan Succinate. 14th Iranian Pharmaceutical Science Congress (IPSC), Tehran, Iran (2015).